Shopping Cart
Your Cart is Empty
There was an error with PayPal
Click here to try again
Thank you for your business!
You should be receiving an order confirmation from Paypal shortly.
Exit Shopping Cart
| | |
| --- | --- |
| Posted on April 9, 2017 at 12:55 AM | |
Hi Everyone,
Right now I'm doing a lot of work. I have a dozen outlines for books, but one is in writing mode and that is Book 3 in the Arnhem Knights of New York series. I would have loved to say it's finished, but it's not. The history in it is immense! So is the romance! Getting used to another time and another country is quite the experience.
I'm setting up my conferences. So far I have Confluence in Pittsburgh in August and Fall in Love with New England Romance Readers/Author Conference in October. Confluence is a science fiction and fantasy conference. Fall in Love with New England is the cozy and happy readers/authors conference with great panels, time to hang out with authors, make new friends, great booksigning, and fun events. If you love romance and want to hang out with us, be sure to register before it fills up.

Here are their links:
Confluence 2017: http://parsec-sff.org/confluence/

Fall in Love with New England: http://fallinlovewithnewengland.com/
I am trying to eliminate unnecessary sugar from my diet. It's hard. Have you read labels? In the US, we put sugar or corn syrup into almost everything. So i'm trying to eat fresher and have no desserts. (I will make an exception for the Fall in Love conference for a desert.)
Right now I'm setting up Easter baskets for my grandchildren.

How is everyone else?
-Susan

| | |
| --- | --- |
| Posted on January 19, 2012 at 7:00 PM | |
If you've visited Nights of Passion blog recently, you already know that I've been plagued with a serious bout of block.  The overwhelming stresses and various crises in the family put writing far from me.  I had to surrender and had started to write again albeit a little at a time.

I love my RWA chapter (CTRWA), because they never fail to inspire me.  They had Hillary Rettig as a guest speaker talking about "Overcoming Procrastination, Perfectionism, and Writer's Block."  I found her tremendously helpful. 

One of the things Iearned had to do with resources and gathering the best ones you can.  I went home and realized that I had all my project in too many places.  I put everything on one computer and then backed up on Dropbox and also a portable hard drive.  And a flash drive.  Okay, I'm obessive.  But the great thing about Dropbox is that it will synch all your computers and/or devices.  

Also while Hillary was talking I realized I was stuck on the idea of working on one project at a time until it was finished.  Somewhere during the workshop, it became okay to work on one project until I got as much out as I could and then switch to another project.  So I will be switching between projects now.  I feel inner peace and not as much pressure as I did before.

To find Hillary Rettig:  http://hillaryrettig.com/

I recently was reading the ProfHacker and he talked about a website called 750words.com.  The premise behind the site is to create a private place to increase writing.  I went to http://www.750words.com  and have started the grand experiment to write more and consistently.

I'll let you know how that turns out.

As for the walking experiment, I found out I really don't care for walking.  But my hand has recovered and I have my doc's permission to return to the dojo and punch the daylights out of the bags.  <evil smile>
I am also starting to eat salads and Greek yogurt.  Things can only look up.  YAY!!!

How are you doing?
--Susan
| | |
| --- | --- |
| Posted on September 11, 2011 at 8:40 PM | |
I've learned a few things this week.  One is that if you're on a writing deadline, starting a diet probably won't work.  One big thing at a time is enough right now.  Dieting is a big thing, and turning in a book on deadline is also a big thing. 

Sleep is important to writing well. From my reserach, sleeping 7-8 hours a day is also important to losing weight.  Apparently if you don't get enough sleep, you're body thinks you need more food and your appetite increases.  
Sleeping the full eight is tough for me.  I become alive in a huge way writing-wise at night.  Oh well.  I'm working on it.  Back to editiing.
- Susan

| | |
| --- | --- |
| Posted on September 3, 2011 at 4:40 PM | |
After the hurricane, there was a lot to do.  Now I'm back to focusing on my goals.  For the weight, I've resumed kickboxing and am eliminating bread, pasta, rice, and potatoes from my diet.  We'll see how I do.

For my writing, I'm back to doing the edits on my book.  I'm pushing now since I have people waiting for it.  Yes, there are vampires and rare supernaturals.

I also have two different books that will also start series and two novellas.  One started in Philadelphia and I handwrote it by booklight during the storm.  It's a third done, but I know the entire story.

One of my favorite holidays is coming up--Halloween.  So we'll be having great writers and contests all week long.  That requires setup and I'm in the process.

Yes, I'm completely back.  --Susan

| | |
| --- | --- |
| Posted on August 14, 2011 at 10:05 PM | |
I'm back from Authors After Dark in Philadelphia, and I'm absolutely whipped into the ground.  Hours after hours of bumper to bumper traffic in the pouring rain and fog.  The convention was awesome.  Interesting and fun stuff happened.  I also had laryngitis during the event.  Fortunately when I lost my voice on Friday, I had no panels to speak on.  By Saturday, it was back but scratchy.  The ride home knocked the socks off me. 

As for the goals, I may have lost a little weight not wanting to eat much with my sore throat.  I don't recommend losing weight this way.  Also getting sick hasn't helped with the writing.  I did manage to write the beginning to a new story.  I edited a little.

On the flip side of the author's life is meeting people which is a blast.  I met a lot of people at the convention and booksigning.  More on the happenings later.


--Susan

| | |
| --- | --- |
| Posted on July 19, 2011 at 5:49 PM | |
I've been doing well.  Most days I average 1000 words.  One day I did 2000, but the next I did 500.  Right now I am 4500 words from the end of my newest vampire/supernatural adventure romance novel.
Exercise?  Kickboxed twice last week and walked one day.  I've been glued to the computer trying to finish the book.

Preparing for the Authors After Dark Convention?  I have my steampunk costume almost done.  I need footwear and some accessories.   But for the second costume, I'm starting from scratch.

If you can't do everything, forgive yourself and start again the next day.  Goals are challenging.  :-)  You're worth the challenge.  Hang in there and so will I.

--Susan
Susan Hanniford Crowley

 

| | |
| --- | --- |
| Posted on July 13, 2011 at 10:11 PM | |
Okay, I've not been great on goals one or two lately.  I did go walking on Sunday, kickboxing yesterday, nothing today.  Not good.  I wrote 1000 words on Sunday, 500 on Monday, none so far on the novel today.  Not good.  I've been guest blogging on FF & P  http://ffnp.blogspot.com/2011/07/look-deep-into-soul-of-your-character.html and setting up for an online workshop on blogging for Savvy Writers.  


I did do something fun and unexpected for me.  I made a video of my Thursday blog article on Nights of Passion.  It's about book trailers, marketing, synching files, and online storage.  I don't feel very photogentic but decided "I don't care"  and went ahead and made it because I felt saying it would in this case be more important than writing it.  So I'm on You Tube and Nights of Passion.  But go to Nights of Passion (see link on horizontal menu above).  It was all the links of the book and programs I mention.

I'll be writing again soon.  My goal is to get back on the novel.  8000 words left on the novel.

--Susan

| | |
| --- | --- |
| Posted on July 6, 2011 at 10:34 PM | |
Except on the days when I kickbox, my exercise goal has fallen by the wayside.  Not good.  I was reading today about yoga.  I know how to do it.  I took a semester of yoga classes years ago, so I may try that at home.

The writing goal has suffered with 100 or 200 words, but today we're back at 1000 words.  I find when you have too much on the to do list.  Life just knocks the wind out of you for a while.  Right now, the kitties are playing and I'm writing a little more before I go to bed. 

My hero and heroine are in the bathtub. They're so much fun.

I'm in a lot of contests too.  This website is part of the Night Owl Reviews Web Scavenger Hunt.  See their graphic in the sidebar of the homepage and visit their site to see how to play.

On the Nights of Passion blog (see link on horizontal menu), I'm part of the Skyrockets in Flight Blog Hop Giveaway.  You must go to that page on Nights of Passion to enter.  Be sure to read the directions there.

I'm also packing giveaways for the Authors After Dark Convention in Philadelphia in August.  I will be raffling off a basket of goodies for charity.  I'm putting together a prize for the banner scavenger hunt there.  I will also have on me multiple things to give away.  So if you're going to Authors After Dark, be sure to say hi. 

I'm so behind in putting my costume together.  Oh, well.  I'm back to my characters.  Where did I leave them?  Oh, yes, fooling around in the bathtub.  I tell you I can't leave them for a second without they ... LOL

---Susan

| | |
| --- | --- |
| Posted on July 1, 2011 at 4:27 PM | |
So many times we must expand our goals.  My exercise goal during the two hot days were either shadowboxing or nothing at all.  My writing goal also suffered.  200 words one day 800 the next.

But yesterday I decided that if I couldn't go walking, I would write like the wind and wrote 1800 words. 

Today was a partial day for me.  I needed to have an MRI today.  My past history with MRIs had been failure.  The only one I ever passed was with an open MRI.  Since it was for my shoulder, they let me see out and I had harp music drowning out the horrible sound that usually causes migraines and physical illness.  I ended up migraining for two days afterward. 


This time, my doctor gave me a pill, then they waited until I felt fuzzy. They put this thing over my face which included a mirror that allowed me to see out the tube by my feet.  I didn't feel sick in the machine.  My migraine which was starting remained where it was and did not progress.  I concentrated on the soundtrack of Fantasia in the headphones on my head and the sight (courtesy of the mirror) of the technician in the booth talking to people and running the board.

So I have finally achieved an old goal--the ability to get an MRI. 

I did have a mild migraine when I got home and took a pill.  I ended up sleeping most of the day away.  But I'm happy.  I'm on the computer taking with you.  Now back to writing.

--Susan

| | |
| --- | --- |
| Posted on June 27, 2011 at 7:00 PM | |
Sometimes life rearranges your goals.  That's why I'm writing now rather than later.  I went out to walk and only got so far when a family of skunks (very adorable) came out of the driveway of a neighbor.  I turned around and ran home.  Okay, we met our exercise goal partially by running instead. LOL

Satuday I worked on promotions for Nights of Passion blog, where our guests always get first class treatment.  I fell a little short of my writing goal.  Shadow boxed.  I think I learned all of Muay Thai combo 2.  


Sunday was a wash.  I wrote about 200 words,but that's okay.  I went to two great birthday parties and watched True Blood.  My daughter, Sarah, who received great gifts gave me a present to celebrate the return of True Blood--two adorable crocheted dolls of Sookie and Vampire Bill.  I've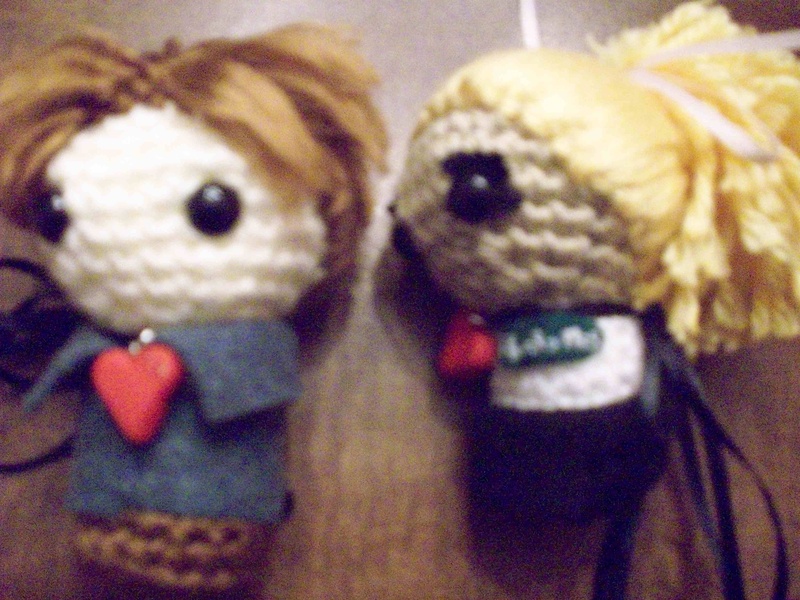 emailed the doll artist about being interviewed for Nights of Passion.  I'll keep you posted.  They both came with heart beads with tiny vampire bites so I tied them on.

Monday, actually after helping the family and doing errands, I've managed to almost reach my 1000 writing goal. 

I think the point of all this to always redirect yourself to the goal and don't forget enjoy life.

--Susan
/